The Inside Scoop: What it's like to study at The University of Auckland
The University of Auckland. Home to crippling-debt flatties and children of yacht-owners alike.
Founded in 1883, The University of Auckland now spans across 13 campuses and centres. As of 2018/19, Te Whare Wānanga o Tāmaki Makaurau prides itself on being the 85th top university in the world and the #1 university in New Zealand.
But, aside from tales of Shore girl cliques and the Becky of the hall floor who prides himself on studying-the-night-before A+'s, what is it really like to study at the mighty UoA?
We spoke to three students of the past and present to find out.
Courses and Careers Open Day 2018. (Courtesy of The University of Auckland Facebook page)
Insider: Fresher.
1. So, you're a first year at UoA. Were there any stereotypes or misconceptions you'd heard about Auckland Uni before going in?
Not really any about the university itself, more so Auckland as a city, but I knew that was probably biased because anyone I talked to was from Wellington and naturally most people there like to feel as if Wellington is better.
I'm doing a conjoint Bachelor of Arts and Bachelor of Fine Arts, which means I spend most of my time at Elam, the fine arts school. There were the obvious stereotypes of art school-people doing it because they don't want to do a 'real' degree, they don't do any work and just hang around all day, everyone is pretentious and high brow, etc. Particularly in halls I've been asked skeptically about what I'm going to do with my degree once I've finished – so there has been a general feeling of dismissing going to art school.
However, from what I've seen, many of the students are putting in such hard work, and from the outside it's possibly difficult to understand a more creative approach to work as the process is so much different to studying for more 'academic' subjects. Although that in itself is debatable as I've found critical studies (where we study artists and movements) quite interesting and involving a lot of reading. Everyone is also very welcoming and approachable!
2. Was it as expected or were those misconceptions exceeded?
I talked to a whole bunch of people who went to Elam before starting, and they all told me the same kind of thing: don't expect anything, don't have any expectations, just go with the flow, roll with whatever happens. It will be very different from high school art. And that's pretty much been fulfilled. I've gone into it with an open mind and for now am just trying to absorb everything, so there weren't really any misconceptions set and so none that I've taken on.
3. What was the transition like going into UoA, and how has that changed (or not changed) now?
Actually not bad, to be honest, so far it's not as hard per se as high school, but doing painting and art-making for most of the time is a very different thing to the rigour of doing the International Baccalaureate the last two years. Most of all I'm noticing I'm really having fun learning a lot of new info, and there haven't been as many tests so it hasn't felt like stressed learning. It's great being able to do all the subjects you want because you always love what is being taught which removes a sense of chore about it.
The transition from living at home in a city I've been in for years to a new city and semi-independent living in the halls has been so great and liberating but surprisingly easy. But then again, I felt like by the end of year 13 I was definitely in a place where I was very ready to move on with this new phase of life and so the transition was fine. Very much enjoying it!
4. Where's your favorite place to study at UoA?
I'm a big fan of getting a coffee as an excuse to study in cafes for ages, and I've been finding that Shaky Isles on campus is a really pretty, very plant-y, lovely atmospheric place to do that. Plus I filled out my coffee card there recently, so got to have a free iced mocha. That was so rewarding and made the studying experience so much better.
5. If you could give one piece of advice to your high school self, what would it be?
Be more onto it with the self-education, watch lots of interesting movies, read good books, keep up French outside of class, teach yourself more because school won't teach you everything! I know it's very time consuming but you can do it! Do the things you want to do! You'll appreciate every incremental learning step because it all accumulates in the end, but that requires extended periods of time!
Shaky Isles on campus. (Courtesy of Shaky Isles Facebook page)
Insider: Mid-year.
1. You're no longer a wide-eyed first year. What's life like now at UoA? Has it gotten harder? Easier?
Second year is so much better than first! I actually know how it all works and am going into my majors.  Learning things is so interesting because I'm learning what I want to not what I have to (for first year commerce you have to take 7 prerequisite papers before you can go into your majors).
2. Describe a typical uni day for you in a couple of sentences.
A day at uni consists of lectures, studying, eating, trying to stay awake – I have a lot of outside uni commitments which take up a lot of energy and time – and friends!
3. What's the best and worst thing about studying at UoA?
Worst thing about UoA is the Wi-Fi – it's honestly the worst. And the overpriced food. It's a pretty good uni, there's just a lot of people so it's hard to make good friends because you meet someone in one class and never see them again.
The best thing about UOA is probably that they offer General Education courses; 2 random courses you can choose for fun. I did Spanish and Drama.
4. Where on campus do you get the most bang for your buck for a feed?
NOWHERE. Everywhere is expensive for a rent paying student! But, the most bang for your buck in my opinion is definitely the $5 vegan meals they do on Wednesday just past the general library – you can bring your own container if you want and they'll fill it up. Stay away from Munchy Mart!
5. If you could give one piece of advice to your first year self, what would it be?
Oh hunni ask for help. If you don't know what's going on ask for help because how else are you going to learn?
University of Auckland General Library.
Insider: Graduate.
1. Congratulations – you're officially a UoA alumna. Describe your uni experience in 5 words.
Thank you! It's been a long time coming. I would say that my uni experience was challenging, stimulating, spontaneous, (pretty) ordinary but worthwhile.
2. What are you doing now that you've graduated? Has your degree helped you in any way?
Last year, I completed a Graduate Diploma in Secondary Teaching with Auckland Uni. Now I am working as a teacher at a secondary school in South Auckland. I teach History and English, which are the subjects I studied in my Bachelor of Arts degree. My degree definitely helped me decide on future academic and career moves. I had no idea what career path I would embark on upon starting as a first year and literally just chose papers that interested me. I didn't really have a game plan or think to have a game plan until, I want to say, halfway through my third year in uni. That's when I really had to sit myself down, look at my options, and see where I can go with my degree.
3. Would you recommend UoA as a university to study at? Why or why not?
Yes, I would. I mean you've probably heard that it's the highest-ranking university in the country, and the Chancellor gives an annual update on what rank that is, but that's not all there is to Te Whare Wānanga o Tāmaki Makaurau. It is diverse in numerous aspects: its staff, students, programmes, and opportunities available. Depending on what your course is, your UoA journey could be totally dissimilar from a fellow UoA student. There is no cookie-cutter uni experience, and I think that's a good thing. There is an abundance of genuinely different stories, experiences and aspirations – and that's what makes our university experience so rich.
4. Are you still friends with people from uni?
Yes, I am! I wasn't really much of a social butterfly in uni. I never strayed too far out my bubble, but I was lucky enough to have met some really wonderful people. It's awesome seeing where everyone is at now, after their university journey. When you catch up you get all nostalgic about all the classes you ditched together or all the study leaves you wasted sitting in gen lib doing anything but revision. Uni friendships are special.
5. If you could give one piece of advice to your undergrad self, what would it be?
Make the most of all the opportunities available to you at this present moment! And if none of them seem appealing, find ones that do! It is so easy to get accustomed to the freedom and having the endless possibilities of the day-to-day, that we forget how fleeting our time in uni is. You don't want to be at the end of the finish line with nothing but a piece of expensive paper. Make the journey count. Collect mistakes, memories, learning moments, friendships. Utilise and enjoy that freedom.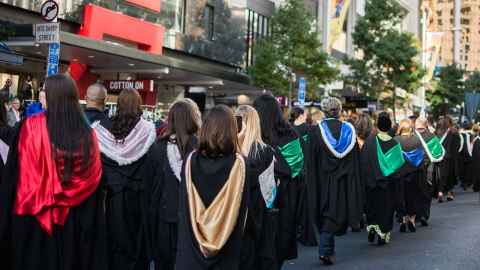 Graduation parade on Queen Street.
A special thank you to our interviewees:
Fresher is a first-year student studying a Bachelor of Fine Arts and a Bachelor of Arts majoring in English and Screen Production.
Mid-year is a second-year student studying a Bachelor of Commerce majoring in Marketing and Management.
Graduate graduated from UoA in 2017 with a Bachelor of Arts majoring in History and English, and completed a Graduate Diploma in Secondary Teaching in 2018.
Printed versions of our Walkthrough Guides, available for order now!