The Inside Scoop: What it's like to study at the University of Waikato
The University of Waikato. Home to students who wanted to study up north but didn't want to go to Auckland.
Established in 1964, the University of Waikato's main campus sits in the heart of Hamilton with a satellite campus located in Tauranga. The University of Waikato is the only university in New Zealand that can pride its foundation on its locals who petitioned to get a school up and running.
But, aside from people either saying it's "the best thing Hamilton has to offer" or forgetting it exists at all, what is it really like to study at the mighty UoW?
We spoke to three students of the past and present to find out.
UoW student and NZ Space Scholarship recipient Rosemary Swears before her 10-week internship with NASA. (Courtesy of the University of Waikato Facebook page)
Insider: Fresher.
1. So, you're a first year at UoW. Were there any stereotypes or misconceptions you'd heard about Waikato Uni before going in?
Being from Waikato, I had never really thought that many people would travel from other cities to come to the University of Waikato, as I had heard that a lot of people didn't even know Waikato had a university until they looked into it. I had also heard that it was very hard to make friends if you weren't living in the halls of residence, so I was told I'd be at a disadvantage if I stayed at home.
2. Was it as expected or were those misconceptions exceeded?
I was very surprised to hear how many people had traveled long distances to come to the University of Waikato. It opened my eyes to the amount of people who really want to study at Waikato University. I guess being from Waikato meant I was unaware of how well known it is outside of Waikato.
In regard to making friends, I did find it really hard at first, and definitely felt that I was at a disadvantage by not staying in the halls of residence. However, as tutorials and labs started up it was a lot easier for me. While I felt disadvantaged, it just meant I had to put myself out there a little more and make a bit more of an effort.
3. What was the transition like going into Waikato, and how has that changed (or not changed) now?
I had a relatively easy transition to Waikato University from high school, as I have lived in Hamilton my whole life. The study and classes are a lot more independent which took some adjusting to, but after a couple weeks I settled into my schedule and some days I forget I've only been studying at Waikato for around 3 months. Going to tutorials and labs made it a lot easier to make friends as I'm not living in the halls of residence, and being from Hamilton meant that a few of my school friends are also studying here.
4. Where's your favorite place to study at Waikato?
I love to study at the Main Library. There is always a little chatter and background noise which I like, and the large windows let in a lot of light so it's really nice on a sunny day. There are different floors for quiet study and group study. There are so many people in the library who are keen to help you with referencing or any other assistance you may need, and they are always so positive.
5. If you could give one piece of advice to your high school self, what would it be?
I would tell my high school self to make the most of your time there. The five years at high school goes by really fast, and once its gone, you'll miss it. I would tell my high school self to join more clubs and enjoy it more, rather than just focusing on school work and grades. While school work is important, it's also important to set aside time for yourself to have fun with friends and family.
Room in a University of Waikato hall of residence.
Insider: Mid-year.
1. You're no longer a wide-eyed first year. What's life like now at Waikato

? Has it gotten harder? Easier?

Well, let me just start by saying that I'm glad my first year is a thing of the past. Do not get me wrong, it was truly an unforgettable experience filled with making wonderful new friends and expanding my knowledge. But ultimately, first year was definitely a roller-coaster ride and a half.

My second year of my BSc is going great. I am enjoying my papers a lot more as they are less general than the required first year papers I took last year. I think that in second year you are able to find the perfect balance between work, study and socializing. First year has prepared me for the worst so I know what I can and can't take on in terms of responsibilities. This means that I can go out for food with friends without feeling too guilty, I can miss a few lectures here and there if I am feeling too stressed out, and I can have a weekend off if I want to have a good time. If first year is about feeling your way through the dark, then second year is about enjoying the balance you have discovered.
2. Describe a typical uni day for you in a couple of sentences.
I wake up at around 7am or 8am every morning and proceed to make a good, hearty, student breakfast: porridge. I found that my second-year timetable was a lot more relaxed than last year's, so my classes usually start around 10am. I attend all of my lectures, maybe a lab here and there, before returning home for another cheap meal. This meal most likely consists of coffee and peanut butter toast. Between 3pm – 9pm I try and exercise, do something creative, tutor my students and chip away at assignments or study.
3. What's the best and worst thing about studying at Waikato?
The best thing about studying at the University of Waikato is the people. I have found that the majority of individuals I converse with are relaxed, fun and friendly. I have heard from my friends at other universities, like Auckland, that some people can be really cold and judgmental. I feel as though the vibe at Waikato is really positive for all and a great place to learn in.
On the other side of the coin, the University of Waikato does have a small selection of lecturers who I believe do not teach their subjects very well. I understand that I cannot say much as I am only 19 years old and not a lecturer with almost a lifetimes worth of experience. However, one of my papers this semester makes me feel deflated knowing that I have spent a grand on enrolling for it. But, hey! You can't always expect to get a perfect eight papers with outstanding lecturers each year, and that's just life.
4. Where on campus do you get the most bang for your buck for a feed?
It has to be a toss-up between Momento (because I love coffee) and Bongo Sushi. Momento is excellent because if you bring your own keep cup, they take 50 cents off your coffee order – and being a poor student, I simply cannot resist. Bongo Sushi has such a good variety of choose-your-own sushi and they are also pretty environmentally friendly because they use cardboard boxes.
5. If you could give one piece of advice to your first year self, what would it be?
Spend less time worrying about what people think about you! You'll attract the kind of energy you put out. Everything will be okay. I think that's three pieces of advice, but I definitely needed it back then.
Momento Espresso at the University of Waikato campus.
Insider: Graduate.
1. Congratulations – you're officially a University of Waikato alumna. Describe your uni experience in five words.
Work hard, play hard. Netflix.
2. What are you doing now that you've graduated? Has your degree helped you in any way?
I'm working at a top four accounting firm, and I would not be able to understand a majority of my work if I didn't study accounting (obviously). The 300 & 400 level papers prepared me so much better and be able to understand what higher level staff and clients are talking about; from what I understand some are a lot more practical and relevant than other 300 level papers at other unis. There are also other papers that have helped more than I thought they would; the compulsory management papers have taught me a lot about general business in New Zealand and understanding terminology used throughout.
3. Would you recommend Waikato as a university to study at? Why or why not?
Yeah for sure – I think Waikato can be sometimes overlooked when people are thinking of universities, but it has so much to offer, like smaller lectures so you can actually build rapport with your lectures and tutors. It's one big campus so everything is in one place and the campus itself is really pretty with lots of space (sports fields, lake, village green, pool and new buildings like the library). It also has really good scholarships for academics, sporting and arts, compared to other universities.
Also Hamilton is actually a pretty decent place – it's the fourth biggest city, has everything you ever need, lots to do, has cheap rent and is close proximity to Auckland, Coromandel, Tauranga, Taupo and Rotorua, so easy for weekend trips away.
4. Are you still friends with people from uni?
For sure – have already caught up with a heap since starting work and have more plans in the works.
5. If you could give one piece of advice to your undergrad self, what would it be?
Get more involved in extra curriculars earlier at uni, whether it be sport or clubs – I got involved later in uni but wish I had started from my first year.
Also general advice for all school leavers: highly recommend getting a job while at uni, looks good on job applications and helps minimize your student loan/or help you to afford cool stuff. And go into halls first year – helps you get out of your comfort zone, meet heaps of new people and there is always cool organized social events throughout the year.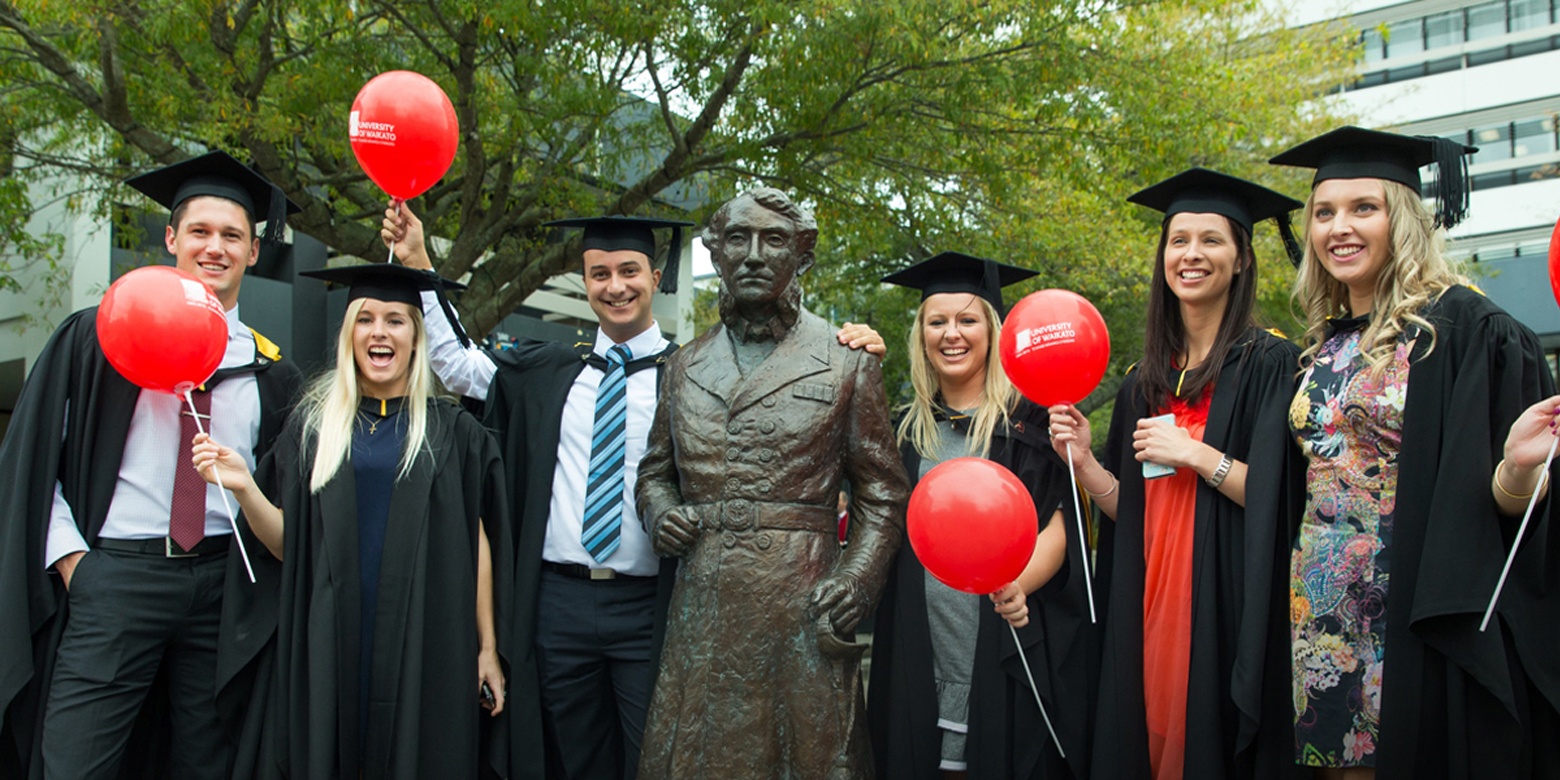 University of Waikato 2017 graduates.
A special thank you to our interviewees:
Fresher is a first-year student studying a Bachelor of Science majoring in Chemistry and Molecular and Cellular Biology.
Mid-year is a second-year student studying a Bachelor of of Science majoring in Ecology and Biodiversity.
Graduate graduated from the University of Waikato in 2018 with a Bachelor of Management (past four year course).
Printed versions of our Walkthrough Guides, available for order now!