Top 10 Spots to Study in Auckland (Part 2)
Sometimes it's awesome to be able to crack open a textbook and highlight "just the important bits" from the comforts of our own bed.

Other times, it's easy to open up your internet browser and accidentally watch the first 3 seasons of Brooklyn Nine-Nine on Netflix instead.

We've all fallen victim to unfortunate study habits before. But the truth is, new food still isn't going to magically appear on our 516th opening of the fridge, and we've spent more time walking to the fridge than actually getting work done.
So, if you live in Auckland, take this as your official sign to get out of your room and take your highlighter and notes out where there's sun (and maybe a coffee).
Following up last year's

Top 10 Spots to Study in Auckland

, StudyTime is back with the Top 10 Spots to Study in Auckland (Part 2).
GridAKL is part of the innovation precinct in Auckland's Wynyard Quarter.
Designed to "maximise innovation by harnessing the power of collaboration," GridAKL is a space that was specifically made to create pathways for people to connect, share ideas and access the tools they need to help them grow.
Surround yourself here with other people who are ready to shift into gear and focus.
The Domain; also known as the Central Park of Auckland City.
75 hectares of open spaces, duck ponds, formal gardens, bush walks and more.
Pull out your laptop on a table or bench, and have a picnic or play some footy with your friends on the sports field for a post-study treat.
The name of this one speaks for itself.
Located in the University of Auckland, the Relax Lounge staff are used to students being nestled in to study for an hour or two.
Stay warm inside or catch some sun in their seated outdoor area.
(They also have the cheapest Iced Americano on campus. Thank us later.)
The legendary Hum Salon is situated at the prominent intersection of Grafton bridge and Grafton Road, just a stone's throw from the city center.
Grab some light refreshments or yummy vegan pies from the Coffee Hut out the front, or find a place to sit down and relax either outside under the tree, on the deck or in the front two rooms of the villa.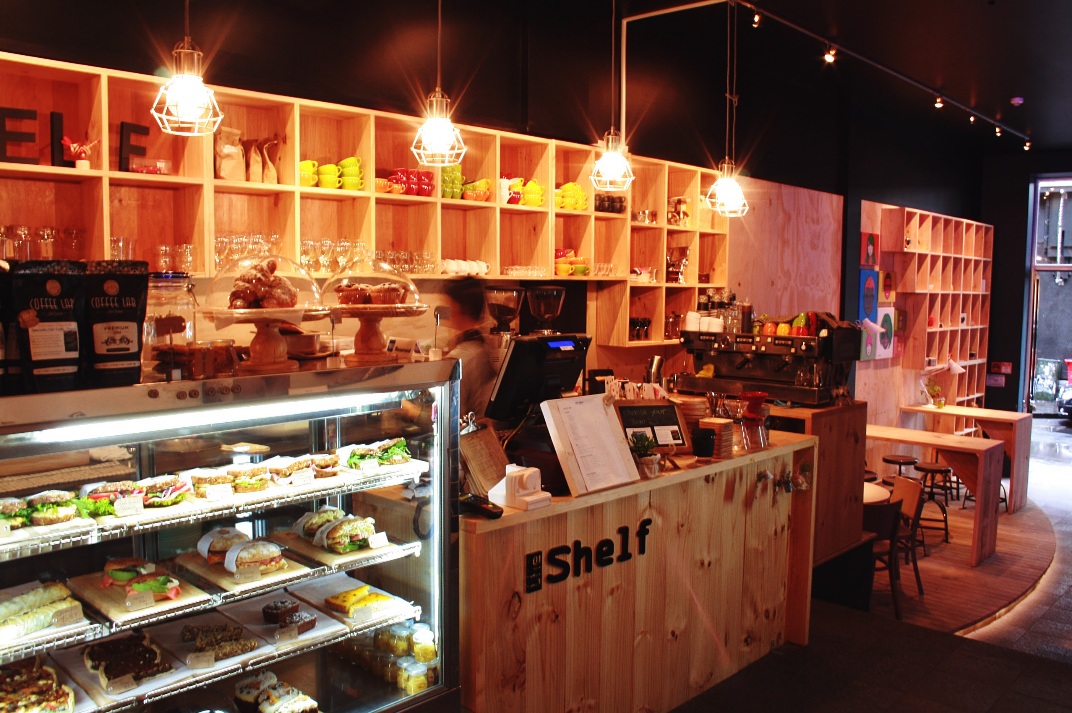 Tucked away on High Street, The Shelf offers an excellent hideout to smash out some productive work.
Their hot chocolate is as strong as their WiFi connection, and their staff acknowledge and welcome long staying guests – great for students like yourself.
Eighthirty on High Street serves serious loft vibes for those wanting to bust out some innovation and creativity.
Seriously massive windows that let in light, seriously aesthetically pleasing interior design, and seriously impeccable coffee.
And hey, even if you still don't end up getting much done here, at least your "proof I was studying" story on Instagram will look good.
Not sure how much productive study would actually be followed through with here, but this Queen Street gem has couches, large pillows, and if you couldn't tell by the name already, CATS!
Recommended for those studying Level 3 Biology. e.g., Cats are quadrupedal.
See, looks like we can get some study done at BaristaCats café all! Did we mention they have cats?
Keep it rural and spend an afternoon at The Tasting Shed in Kumeu.
From lush lawns and rustic benches to a sundrenched deck with mountains of bean bags, it's the ideal place to grab some food and soak up some vitamin D while you study in the sun.
These two beachfront suburbs are lined with cafés, ice cream, FroYo and fish n chip shops.
If studying on the beach itself seems a little unusual to you, there are plenty of outdoor tables at the eateries and public benches that overlook the sandy bay and Rangitoto Island.
The calming sound of waves while trying to read a 16th century poem for Unfamiliar Text, anyone?
If your local library isn't cutting it anymore but still want a strictly studying quiet zone, check out the library of the University of Auckland or of any other university near you.
Even if you're in high school, the library is open entry to the public. 
The WiFi is also free with access on every level, and while you're at it you could head over to Relax Lounge for their wraps!